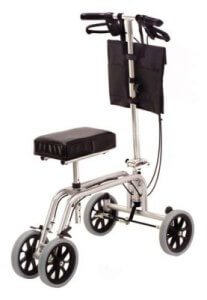 If you read my page comparing knee scooters to crutches you know that I am heavily in favor of the former. Moreover, I recommend buying a knee scooter over renting a used one. Purchasing it will almost always work out cheaper as I learnt from my own mistake.
A quality new knee scooter costs between $120 and $300 before any discount coupons or sales promotions. I have reviewed the most popular knee scooters below. Note that a knee scooter is also called a knee walker.
As with any such mobility product, one has to be very careful when using it in the rain, on uneven surfaces, on slopes and so on. For people who already have a foot injury and are in a cast or boot when riding a knee scooter, this is especially true. The last thing one needs is another fall on the bad leg. When starting out with a knee scooter, it is crucial to learn how many brakes there are and where they are located. Note that these products are not electric.
It is also important to find the parking brakes that stabilize the scooter when in rest or when you are sitting on it if the scooter allows for such emergencies. In my scooter, I had to press on a lever that totally stabilized the product before I attempted to sit on it. Finally, always make sure that any bolts or screws that become even slightly lose are tightened with a wrench. I had to tighten one particularly annoying bolt about once every week and a half.
Best Knee Scooters in 2023 and their Reviews
Drive Medical 796 Steerable Knee Walker
A bestseller on Amazon with mostly great reviews. Positives include great steerability and portability. Negatives include the lack of an attached basket or bag in the front and some complaints about bolts becoming lose. Also see this video overview of the DV8. On Amazon, this Drive Medical walker currently has 4,100 reviews averaging 4.5/5 stars. The price is only $110.
Roscoe Knee Scooter with Basket
This one looks great in burgundy. Positives include portability and smooth rides over even surfaces. Carrying capacity is a higher than normal 350 lbs. Negatives include issues with sharp turning radiuses and fairly difficult assembly per some reviews. However, one reviewer suggests watching the company's youtube video and it will just take 15 minutes to assemble the scooter. Also see this instructive video from Roscoe Medical on how to assemble the knee scooter. The cost of this Roscoe knee scooter is a bit expensive at $208.
KneeRover Deluxe Steerable Knee Walker Crutch Alternative
Consumer reports always rate KneeRover knee scooters highly. Positives include good price, wide front wheelbase and attached basket. The blue color makes this product really stand out compared to its competition. Negatives include some complaints about front steering system and assembly and no parking brakes. However, several reviewers suggest that it is possible to lock the brakes via squeezing the handbrake with your right hand and then pushing down on a little silver button on top of the handbrake. The following is a KneeRover video overview of its knee walker. Average reviews on Amazon are a high 4.7/5 based on close to 3,700 ratings.
Elenker Steerable Knee Walker Medical Scooter
Elenker's knee walker is a a very popular crutch alternative. On Amazon, it currently has almost 6,000 reviews averaging 4.3/5 stars. The price is also reasonable at an affordable $120. It is also relatively lightweight at under 24 lbs. You can sometimes get this same Elenker scooter at Walmart for a lower price.
KneeRover Jr for Small Adults and Kids
A unique knee scooter designed for petite or small-sized adults and younger children. It is lightweight and foldable. The average rating of this walker is currently  4.3/5 stars. It comes with an advanced tie-rod steering technology to provide superior stability while steering. The all-terrain scooter walker has a rear bicycle brake in addition to a locking hand brake for excellent control while navigating.
Isokinetics Steerable Knee Walker/Scooter
Positives include good price, easy assembly, disc brakes and an attached basket. Negatives include some complaints about difficulty during wide turns and slightly heavier weight of scooter compared to others.
Finally, it might be worth buying a Knee Walker Pad Cover to ensure that your knee does not get tired or bruised while riding the scooter frequently.
Knee Walker CPT Code
It is best to contact your insurance company or Medicare or Medicaid directly to find out if you qualify for knee scooter rental or purchase reimbursement. Some insurance companies might cover the cost if you are able to prove the knee walker to be a necessity.
Make sure to find the correct billing and CPT code before filing for reimbursement. Most walkers are classified under code E0118. See more here.
Frequently Asked Questions
Below are some frequently asked questions about the best knee scooters for your needs.
What is the best knee scooter?
Our picks for the best knee scooters are as follows: Drive Medical knee walker; Roscoe knee scooter with basket; KneeRover Deluxe; Elenker steerable with basket; KneeRover Junior; and Isokinetics steerable.
How much does a knee scooter cost?
Knee scooters have become fairly affordable, with prices ranging from $120 to $300. You can also find frequent coupons and sales specials, further reducing the cost.
Is a knee scooter better than crutches?
Knee scooters are superior to crutches from a comfort and convenience standpoint. Knee scooters are easier to use than crutches, allow for much better mobility, and are less demanding on the upper body.
Are knee scooters safe?
For most people, knee scooters are perfectly safe provided that they are used correctly. If you fall off the scooter or try to go fast, they can be dangerous. Some elderly people can get knee pain with continuous use of a knee scooter.